So you want to be a landlord?  You're not alone.
The temptation for would-be investors is strong: Thanks to record numbers of foreclosures, short sales, bank-owned properties and homeowners in distress, prices on all shades of real estate are low and getting lower.  And what could be better than earning money each month while someone else pays for your property?
You may think now is the good time to snag an investment property or two and rent them out, and you may be right!  But with all investments, there is some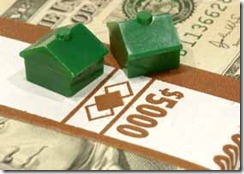 risk involved.  Avoiding these newbie mistakes will improve your chances of success…
Over-Leveraging your Rental Properties
Borrowing as much money as you can when refinancing or buying rental properties may seem like a great idea. However, the problem is, you will then leverage yourself out of any monthly cash flow. This means you will be in the red as soon as you have a vacancy, or unexpected property maintenance. At the end of the year, you should show a profit if you keep your predictable monthly expenses (mortgage, taxes, and insurance) at no more than 50% of your month rent.
Ignoring Tenant Concerns
The roof is leaking, the washer is not working, and there are ants in the apartment… easy to procrastinate but harder to ignore long term. Addressing tenant concerns and potential problems with your rental properties quickly and effectively, will save you financially and may prevent any possible law suits. Send a handyman you trust out to the property to take a look, and more often than not, the tenant was merely overreacting… but you still have to check.
Failing to Properly Screen Tenants
When it comes to locating tenants, there can be a lot of bad apples out there.  Remember to verify employment, obtain current and past rental history and provide a thorough background/credit check. An undesirable tenant will often have a poor rental and financial histories. It is probable that if they have not met their obligations with previous landlords, then chances are that they will repeat their behavior with you.
Using a Generic Rental Agreement
Using a generic rental agreement from the local office supply store is really a disaster waiting to happen. Why you may ask? Because each state has specific language that must be included within the lease and many states have special disclosures that must be attached to the lease. Additionally, states place limits on how much a landlord may charge for security deposits, how many days late the rent must be before a late fee can be charged and so on. Have your lease prepared or reviewed by your real estate attorney.
Failing to Serve Notice of Eviction
Falling behind on rent is not an option. You should treat your rental property as a business. Serve the tenants quickly when their rent is not paid, and it will send a strong message. The eviction can be cancelled when the tenant pays the rent.
Follow these tips and you'll find that your rental business runs more smoothly.
Leave your questions or comments below and…
As always, thanks for reading BillOnBusiness.net!