Here's a quick update for those of you who do owner-financing to your end buyers as part of your business model…
Let me introduce you to HR 5301 – The Seller Finance Enhancement Act..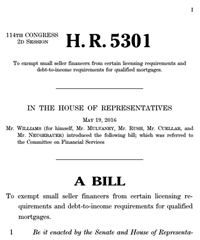 This bill makes minor changes to the Dodd-Frank rules and regs governing seller-financed deals. Currently, if you're financing deals for your end-buyer, you can do only three (3) deals in a 12 month period before having to become (or employ) a registered mortgage loan originator. HR 5301 will change that…IF it passes 🙂
Here's the scoop…
•HR 5301 will amend the Dodd-Frank Act to allow up to two (2) seller-financed transactions per month (or 24 per year) without the need for the seller to be licensed as a mortgage loan originator. [Now, I personally think this should be unlimited – but the National Association of Realtors would only agree to remain neutral regarding the bill if a cap was included on the number of transactions per year – go figure!!]
•HR 5301 will not remove any of the safeguards related to these transactions. Seller financiers must still comply with "ability-to-pay" portions of Dodd-Frank, as well as interest rate rules and the ban on balloon payments.
This is great news and certainly a move in the right direction for us investors. So be sure to connect with your representative and let him know of your support for this bill!
What do you think of this change? Just comment below and let me know. I'd love to hear your thoughts.
By the way, if the current version of Dodd-Frank has you confused about the status of seller-finance deals check out my cheat sheet Seller Financing and the Dodd-Frank Act. Download your free copy here.