Here's a sample Affidavit of Agreement Concerning Real Estate for you!
Some of the questions I frequently get from my students are:  "What if the seller changes his mind?  How do I protect my deal?"  In other words…
"How do I keep from getting screwed on my deal?" 😉
My aswer is always the same…
One of the best ways is to record an affidavit in the public real estate records.  Recording will "cloud the title" and give the world public notice of your interest.
So if you want to protect your deal, and keep from getting screwed" here's the form you need.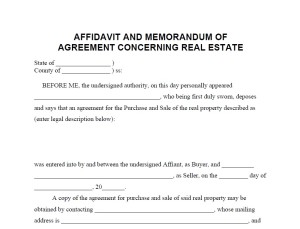 Click hereto grab your copy of the Affidavit.
Be sure to have this form checked out by your own real estate attorney.   And feel free to leave your questions and/or comments below 🙂